Reading time:
9
minutes
It has long been known that eLearning adds lasting value to our world of work, but it has been the coronavirus pandemic that has finally brought home to us the importance of digital and location-independent learning tools. But how can a huge project like implementing eLearning be successfully put into practice? We'll show you how to convince skeptics and successfully introduce the new, attractive learning method in all your departments in just six steps.
---
In this blog article, you can read about:
6 steps to success in introducing eLearning in your company
---
No project without a goal! As in any other area of business, eLearning needs clear goals. Only then can you really align all upcoming tasks with these goals and decide which measures will pay off and which would unnecessarily hold up the project. Since the intention is usually to integrate eLearning into the corporate culture on a lasting basis, setting long-term and ambitious goals is accordingly justified. In order to reach these goals, it helps to underpin the path to achieving them with short-term and medium-term objectives.
Possible short-term goal
successfully implementing eLearning



Possible medium-term goals
time and cost savings in further training measures

learning success in the individual departments

shortened onboarding processes

increased employee satisfaction
Possible long-term goals
increasing your attractiveness as an employer, with resulting long-term retention of your employees

increasing turnover. According to a survey by the American Society for Training and Development, American companies using eLearning offerings have recorded 218% more sales revenue per employee.
Step #2: Put your eLearning team together
Don't worry, setting up an eLearning team doesn't mean you have to hire a bunch of new employees to do it. Nevertheless, the team is one of the most crucial factors behind the success of eLearning in the company. It is important that the people chosen for the task are supportive of the project, show motivation and affinity for eLearning, and possess basic skills in the relevant areas.
We recommend putting your team together as follows:
The project management


is responsible for scheduling the introduction of eLearning and new projects, coordinating subtasks, and making sure that goals are met. In addition, the project management has to analyze and assess needs and newly emerging tasks so as to prevent the entire eLearning project from getting out of hand due to ever new requirements.

The heads of department


represent the individual departments in your company and act as the point of contact in organizational matters relating to eLearning as well as conveying needs and feedback to the project management.

The technical team


is responsible for selecting suitable eLearning software, dealing with the technical side of setting up the courses, integrating the software into existing systems where applicable, handling data protection and scalability.

The experts


are the people who already have the necessary knowledge in specific areas that is to be imparted to other employees. Of course, these experts might already be part of the company, but it's possible you could also need to draw on external experts here.

The authors
are the ones who ultimately draw up the online courses. Depending on skills and resources, this task can also be done by the experts themselves.
Knowledgeworker Service:
We support you with our expertise in all aspects of eLearning
Knowledgeworker offers you not only the modular eLearning software but also a comprehensive range of services. Our team will be happy to support you in all aspects of successfully implementing eLearning in your company:
Strategic consulting & project management
Managed training services
Project management
System configuration & customization
Content creation & content migration
Didactic preparation & revision of content
Translations & soundtracking
Training & workshops
Web development & app development
Setup, updates & maintenance of the software
Support
Find out more about Knowledgeworker Services
Step #3: Identify the training needs
Before you really get started, it is important to determine the actual training needs within the company. What are the challenging topics affecting the company as a whole, and what training do the individual departments need? For example, eLearning is an excellent tool for onboarding processes. On the other hand, your marketing and sales department may need special product training, while it might be that your finance department requires an introduction to the new online banking tool.
Presentation in the form of a table helps you not to lose track of things, and you can also prioritize the individual courses from 1 to 5, which helps in making clear decisions about which courses need to be created first. It then has to be determined when the content is to be implemented and over what periods of time the courses are to be offered.
Step #4: Focus on the learners
Dispel doubts and create acceptance
You will know from experience that not everyone is always positive about change, and there will always be one or two employees who wonder why they are now suddenly required to take an online course. Make sure you communicate transparently right from the start in order to build trust with your eLearning project.
An important issue is that of personal data and the transmission of results. The introduction of the GDPR at the very latest has manifested people's attitudes towards their personal data. So before implementing your eLearning program, inform your employees about what personal data is collected and why, where they can see the data that has been collected about them, and whether learning progress and test results are passed on to superiors. To back this up, the appointed heads of department can seek dialog with the employees.
One of the most frequently cited advantages of eLearning is the independence in terms of time and place. At the same time, however, this independence also implies an absence of contact with teachers and fellow students, which is why dropout rates for eLearning are often higher than for face-to-face courses. To prevent this, you can use chats and forums to offer learning groups for particularly complex courses and organize regular exchanges between heads of department/experts and employees.
Give a millennial an eLearning platform and they'll be in a position to use it in an entirely different way to an employee who is perhaps a few years older. So to make the implementation as successful as possible, you should not only choose software with an intuitive design and a high degree of user-friendliness, but also offer less experienced employees the chance to connect quickly through crash courses or manuals relating to the software. An additional trial course can help to dispel fears before things really get underway.
Before implementing your program, you need to clarify when and where eLearning should and may take place. If supervisors within the department lack the necessary acceptance, it is foreseeable that daily business will be prioritized and employees will prefer to steer clear of their courses in order to avoid conflicts. Therefore, be sure to categorically stipulate that working time is learning time and encourage your employees to block out the required times in their calendars - just as you do with meetings. If possible, set up quiet rooms that allow for concentrated learning, but alternatively, notices on doors and tables along the lines of "Studying in progress, please do not disturb" can also help.
Once you've successfully overcome the doubts, we come to the part that's much more fun: motivation! In order to motivate as successfully as possible, two questions need to be answered for the learners: 
Why am I learning? (conveyance of purpose)

What will I get out of it? (conveyance of benefit)
The question of purpose is answered most effectively by imparting knowledge in a practical way. Just think for a moment: How motivated were you at school when you had to learn things off by heart that you knew you'd never need again in your lifetime? Being able to apply the acquired knowledge is the greatest possible incentive in learning. Even if, to an extent, this already constitutes the benefit of learning, motivation can be additionally enhanced by reward systems. Certificates, awards, bonuses... you can really go to town in this respect!
Step #5: Prepare the courses
Draw up learning units to match the learner types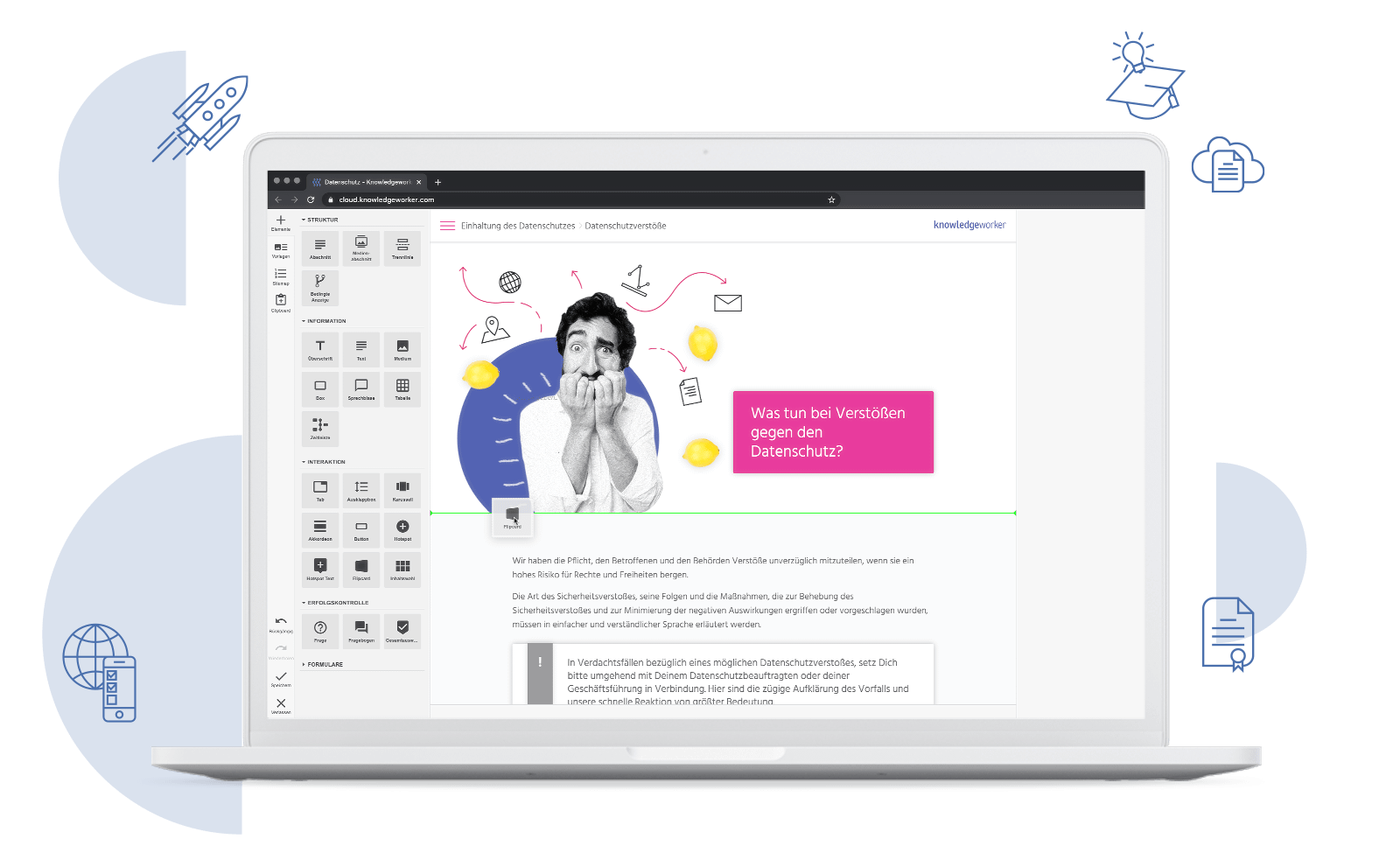 No doubt you'll recall from your own student days that there were always fellow students who only had to sit in on the lecture and listen in order to pull off the next exam with flying colors. Others never turned up in person, but still eventually succeeded in completing their studies by learning from the scripts. Your company, too, will be made up of all types of learners, and this has to be reflected in the learning units.
Learners can be classified according to the following four types:
The visual learner


learns by seeing, reading, looking and observing. Images, diagrams and graphically structured learning material support the process.

Auditory learners


process particularly well what they have heard. Their learning process is aided by content being read aloud, presentations, and by verbalizing content themselves.

The haptic learner


learns new knowledge best with a hands-on approach. Their learning success is greatest when they themselves can be active.

Communicative learners


learn best in exchanges with others. What helps them is holding discussions and giving presentations themselves.
However, this classification is based on dominant tendencies, not clear-cut categories. It would therefore not make any sense - quite apart from the utopian effort involved - to create four versions of each course. It is much more important to break up the mostly text and graphically based learning units at appropriate points with videos and small practical exercises in order to address haptic and audiovisual learner types. The forums and chats recommended previously are particularly helpful for communicative learner types. You can also think about integrating a read aloud function for text passages so as to engage auditory learners.
In addition, you should make sure you split up the learning units so they can be interrupted every 15 minutes if possible. This will ensure that learning in a targeted manner is possible, even if little time is available.
Create fun in learning and enable positive experiences
Probably the most important factor behind fun in learning and motivation is an attractive and intuitive learning platform that performs both on desktops and mobile devices. Quizzes, digital flashcards, videos - a professional learning platform makes it easy for you to integrate varied media and formats that turn learning into an experience with the character of a game. So when choosing software, don't just look at superficial key facts like German server location, responsive display and clear course management, but also at whether the platform offers you enough elements to make learning fun.
Before you really get started, though, it's worthwhile conducting a pilot phase to test your courses with a selected pilot target group. If possible, this group should consist of at least one representative of each of the learner types cited above. By subsequently interviewing the participants, important feedback can be obtained and aspects identified where there may still be a need for optimization.
Knowledgeworker Create:
Our Learning Content Management System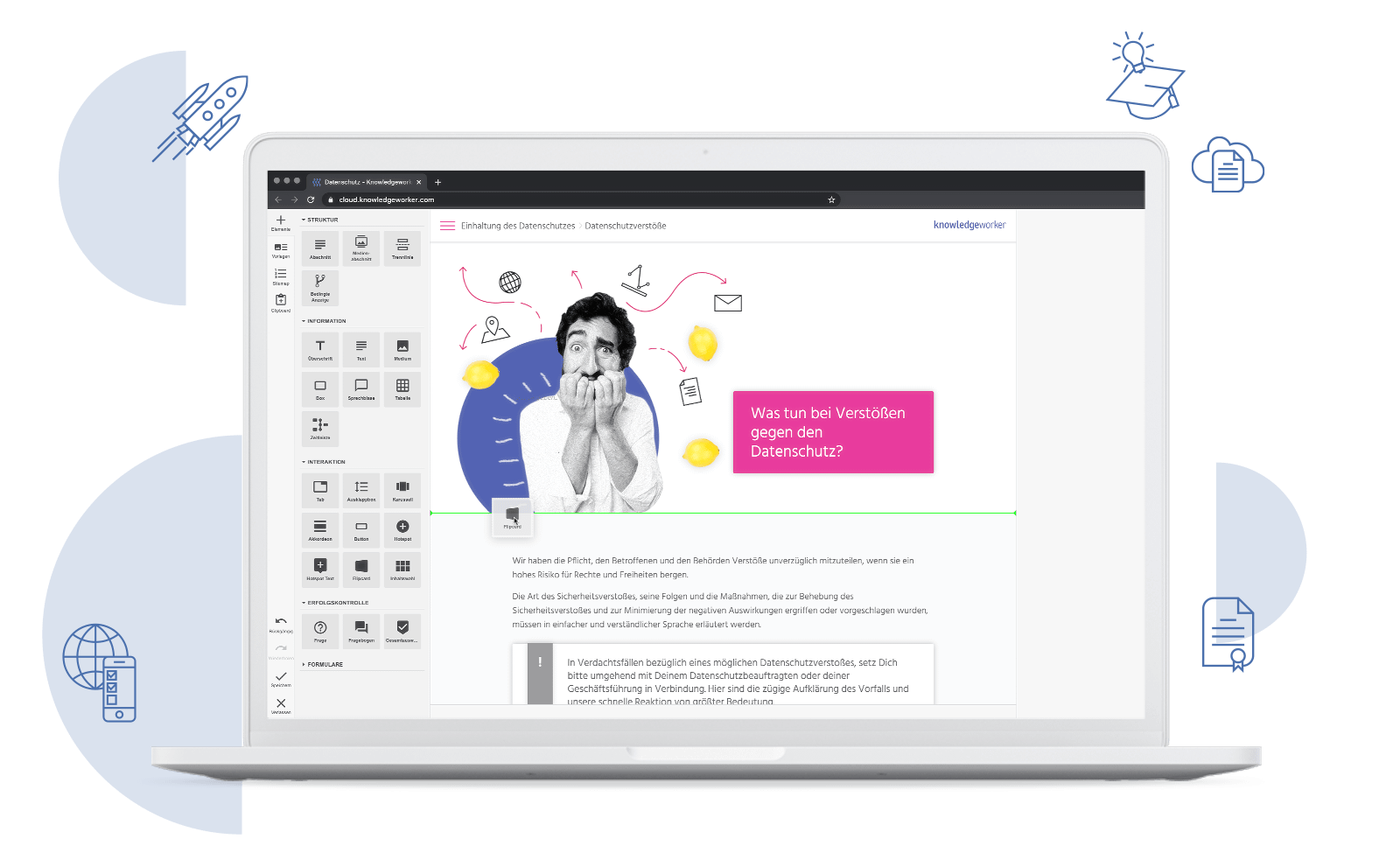 Knowledgeworker Create is a high-quality, fully comprehensive and responsive authoring tool that at all times takes into account state-of-the-art eLearning methods and formats. Numerous templates and interactive elements support you in developing creative eLearning content that matches your corporate design.
The template-based drag & drop editor saves you valuable time and resources.
No programming knowledge is needed.
A wide range of interactive elements makes your eTraining courses modern, interesting and highly professional.
All content is automatically fully responsive for all devices.
Integrated translation management makes your content international.
Collaborative working is easily possible.
Content and design are separate from one another.
Find out more about Knowledgeworker Create
Step #6: Evaluate success and failure
Last but not least: The extent to which the eLearning program has been successfully implemented can be measured by various indicators. These can be used not only to evaluate success, but also to analyze exactly where there is a need for optimization. You can establish
how many participants visit the learning platform,

how often the participants use the platform,

how long they stay on the platform,

which pages are particularly popular

and on which pages the participants exit the platform,

and finally, how many users successfully complete the courses and earn a certificate.
In addition, surveys and feedback mechanisms such as scoring systems help to obtain qualitative feedback from participants on top of the quantitative evaluation. Unfortunately, though, the most important question can only be answered with difficulty or in the long term, if at all: How much of an impact does eLearning have on achieving business goals? To obtain any kind of answer whatsoever, you need to determine the status quo before implementing eLearning - taking into account your individual objectives, of course. Indicators of this kind could be, for example, the average length of service of the employees, if you are using eLearning to enhance your attractiveness as an employer, or the sales revenue generated per employee per year.
Our gift for you: a €100 consultancy voucher*
* After placing an order for more than EUR 750.00 or purchasing a product from chemmedia AG, the credit will be issued with the first invoice.
header image source: pikcha/shutterstock.com