Retain knowledge with gamification
You can turn learning into a game with Knowledgeworker Quiz. Involve your employees in their own continuing education and motivate them to engage in a self-controlled, personal learning experience. In an entertaining manner, you promote long-term anchoring of knowledge and proper behaviour while increasing personal readiness to learn.
Why you need Knowledgeworker quiz for your gamification strategy
With the Quiz app, you integrate continuing education into your employees' everyday routine and make it possible for them to learn from anywhere, at all times and autonomously. You promote independent learning and motivation with this playful approach. As Quiz participants, your employees compete against each other or against a bot, enter competitions and participate in duels. Curiosity and ambition spur on their personal motivation to successfully master challenges. Your employees thereby repeat and consolidate the knowledge they have already gained in through games.Knowledgeworker Quiz is an optional module in the Knowledgeworker Suite. Existing questions from
Knowledgeworker Create
are exchanged using an interface and can be reused directly in the quiz. You create the perfect learning experience and achieve the best possible continuing education results at your company.
Mobile app and desktop version

Knowledgeworker Quiz functions on all mobile devices like tablets and smartphones and is available to you as a browser variant or app. The layout and content automatically adapt to the end device used thanks to responsivity.

Custom distribution

You create a logical structure through the area assignment of your employees to campaigns or by categorising your questions. On this basis, Knowledgeworker Quiz displays only the relevant quiz modules to each participant.

Flexible design

If you design your quizzes in your corporate colours, you can strengthen your own branding and make the impression you are a knowledge expert. If required, employees can also remain anonymous.

Social learning and interactivity

Your participants learn together through games and motivate each other without requiring external guidance. With the app's notifications, you can give them additional incentive to regularly use the material.

Multilingual capabilities

Display the user interface and the quiz content customised for your users in their preferred language so participants can compete against each other on a global basis.

Measuring success and reporting

Make your quiz users' personal success immediately visible. You can use the integrated reporting tool to follow the learning progress and results of all participants.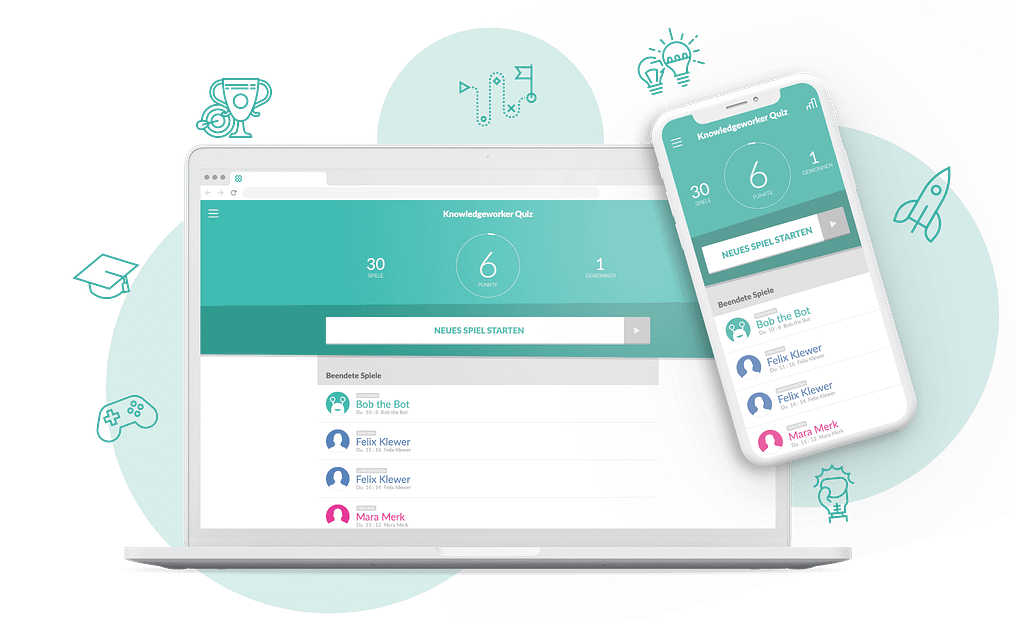 Teaching and learning through games with Knowledgeworker Quiz
Create questions and answers
Compile quizzes
Publish and distribute quizzes
Evaluate quizzes